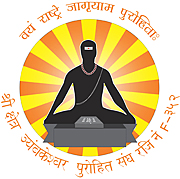 Contact Authorized Pandit /Brahmin (Tirth Purohit)
Shree Ajit Vasant Chandwadkar
Sau.Manasi Ajit Chandwadkar
170, Main Road, Opp. Satyanarayan Mandir
Near Kushavarta Kund,
Trambakeshwar Nashik 422212.

Mobile: +91 93 71 00 41 72
Mobile:- +91 98 22 22 25 30
Land Line Phone: +91 25 94 23 40 70

E Mail
ajit@trambakeshwar.com
----:REQUEST:----

This is humble request to all devotees who want to do any type Pooja at Trimbakeshwar to get the Pooja done from Authorized Brahmin from Shree Kshetra Trimbakeshwar Purohit Sangh, Register no F-352.

F-352 Purohit Sangh Brahmins are Local, Born & bought up at Trimbak and performs Pooja since so many generations. Because their said credential Supreme Court has accepted their representative as a one of trustee of Trimbakeshwar Temple trust. (Now a Purohit Sangh chairman is one of the trustees)

You can recognize local Brahmin by Purohit Sangh logo on their web site, visiting card or name plate on their house.
Those Brahmins residence is inside main town in crowdy place near Kushawart kund or Trimbakeshwar temple not in Ashram away from Temple. Also they will never hide there surname like other many unauthorized Brahmin writes only single ( first ) name along with Shatri or Pandit or Guruji.

Local Brahmin never calls you & do wrong Pooja marketing telling you how they and their Pooja is different than others (All Pooja procedure is same in Trimbak) & confuses you about the Pooja & procedure. Your confusion is there victory.

They will never ask you to meet /pick you on/from the railway station, bus stand, inside any hotel or road corner since they have their own place where they can discuss about the Pooja & procedure. By their name & address you can easily reach to their place.

Beware of fake Pandits or Shastris claims himself as a experts And guarantees you 100% results of Pooja on there websites, facebook/twitter page or adv. Sites etc.

Last but important never give or send Daxina to any Brahmin in advance (By hand or online). Before Pooja first confirm whether he is authorized , have a word with him face to face (You will never understood him on phone ) and then perform the Pooja & once Pooja completes give him Daxina.